Apr. 22, 2014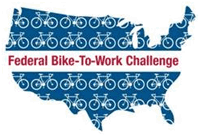 May is quickly approaching, and communities across the country are preparing to celebrate National Bike Month. This year, the White House Council on Environmental Quality (CEQ) and the Pacific Northwest regions of the EPA and DOT are cranking up efforts to promote the Federal Bike-to-Work Challenge.
The Challenge began in the Pacific Northwest in May 2012 when 522 Federal employees rode 65,000 miles and prevented 65,000 pounds of CO2 from entering the atmosphere. The Challenge was selected by CEQ's GreenGov Spotlight Communities to showcase Federal sustainability leadership. In 2013, the Challenge expanded nationwide. In May 2013, 2,100 Federal agency riders biked to work, logging 240,000 miles, burning 8.6 million calories, and saving 240,000 pounds of CO2 emissions.
How it works: Coworkers form teams whose members commit to bike commute during May. Each rider keeps track of their miles online for free. The Challenge promotes camaraderie and healthy competition! We have seen the Challenge introduce new riders to bike commuting and help make biking an integral part of organizational culture across the Federal community.
Next Steps: We're looking for good Captains to start teams – and captaining is easy! See the helpful example at the DOI website here for more information on how to become a Team Captain.
If you have questions, please contact Max Sevareid from the Department of Transportation at max.sevareid@dot.gov.