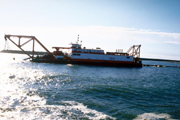 General Description
The removal of materials such as sand, silt, and clays in an existing navigation channel. Maintenance dredging is performed periodically to remove bottom sediment that has been naturally deposited through time.
Summary of Federal Requirements
Dredging operations are managed the same regardless of whether they are related to construction or not. Click here to visit the Dredging portion of the Construction section of the Facility Regulatory Tour.