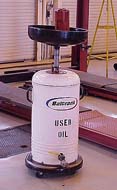 General Description
Storage tanks used specifically for the storage of used oil.
Summary of Federal Requirements
Used Oil Generators and Do-it-yourselfer (DIY) Used Oil Collection Centers
Used oil ASTs and fill pipes used to transfer used oil into underground storage facilities must be clearly marked with the phrase USED OIL.
Used oil ASTs must not be leaking, bulging, rusting, damaged, or dented.
USTs storing used oil are subject to the applicable standards in 40 CFR 280.
NOTE: In relation to used oil coming ashore from vessels, the owner or operator of the vessel and the person removing or accepting used oil from the vessel are cogenerators of the used oil and are both responsible for managing the waste as used oil once it is ashore.
Used Oil Burners
In addition to the requirements for used oil generators, used oil storage tanks at used oil burners must have secondary containment that meets the following minimum requirements:
dikes, berms, or retaining walls
a floor that covers the entire area within the dikes, berms, or retaining walls
the system is impervious.
(NOTE: The following are exempt from meeting the additional requirements for used oil burners:
the burning of used oil by a generator in an onsite space heater
the burning of used oil by a processor/re-refiner for purposes of processing.)
Summary of State Requirements
States often have registration requirements and a requirement to paint the fill pipe a color that designated what is in the tank.
Laws and Statutes
Resource Conservation and Recovery Act, Subtitle C