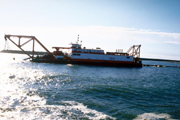 General Description
Any activities involving dredging and filling wetlands are permitted by the Army Corps of Engineers. "Dredge" is material that is excavated or dredged from waters of the United States. "Fill material" means any material used for the primary purpose of replacing an aquatic area with dry land or changing the bottom elevation of a water body. The term "fill material" does not include any pollutant discharged into the water primarily to dispose of waste, as that activity is regulated under section 402 of the CWA. The requirement for a permit to dredge or fill a wetland is not regulated by the U.S. EPA. It is regulated by the Corps of Engineers, Department of the Army under Title 33 of the Code of Federal Regulations (CFR). But, the EPA does regulate permits for ocean dumping of dredged material. For details on the Corps of Engineers permitting process and answers to common questions, visit
http://www.usace.army.mil/Missions/Civil-Works/Regulatory-Program-and-Permits/
.
Summary of Federal Requirements
A Federal facility must obtain a permit from the Army Corps of Engineer prior to dredging or filling any wetlands. In order to determine if you need a permit it is important to understand the definitions of the pertinent terms.
Summary of State Requirements
This is primarily a Federally regulated issue.
State-by-state guidance concerning wetlands can be found at ENVCAP's Wetlands Information Resource Locator.
Laws and Statutes
Clean Water Act
Clean Air Act
The Marine Protection, Research, and Sanctuaries Act of 1972