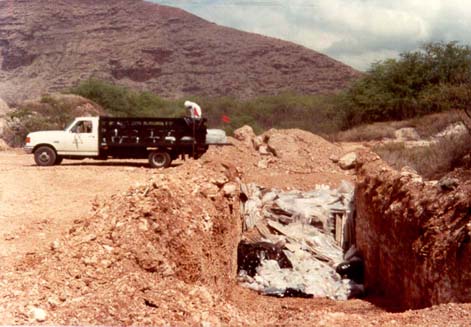 General Description
Landfills with one or more cells designated for the disposal of asbestos-containing material.
Summary of Federal Requirements
Landfills for asbestos containing waste are classed as either "active" or "inactive."
Active ACM Landfills
There must be no visible emissions from active asbestos-containing waste disposal sites. If there are emissions, one of the following methods must be used, or an alternative method approved by EPA:
at the end of each operating day, or once in a 24 h period, the waste material is covered with either at least 15 cm (6 in.) of compacted nonasbestos-containing material
a resinous or petroleum based dust suppression agent is applied, waste crank case oil is not suitable for this purpose.
In order to prevention public exposure, unless a natural barrier exists deterring access by the general public, the waste must be properly covered by non-ACM daily or proper warning signs and fences are installed and maintained.
If the option for warning signs and fences is used, then warning signs must be displayed at all entrances at intervals of 100 m (330 ft) or less along the property line of the site or the perimeter of the section of the site where ACM is deposited and are posted so that a person can easily read the legend.
Warning sign are also required to be 51 cm x 36 cm (20" x 14") in an upright format and display the following legend in the lower panel with letter sizes and styles of a visibility at least equal to those specified and spacing between any two lines is at least equal to the height of the upper of the two lines:
Asbestos Waste Disposal Site (2.5 cm (1 inch) Sans Serif, Gothic or Block)
Do Not Create Dust (1.9 cm (3/4 inch) Sans Serif, Gothic or Block.)
Breathing Asbestos is Hazardous to Your Health (14 Point Gothic).

In addition to the daily management of the site, copies of waste shipment records must be maintained for 2 yr and until closure, a record must be kept of the location, depth, and area of asbestos- containing waste on a map or diagram of the disposal area.
Inactive ACM Landfills
Inactive waste disposal sites must have no visible emissions.
OR
Asbestos-containing waste material is covered with at least 15 cm (6 in.) of compacted non-ACM, and a vegetation cover is grown and maintained. (In desert areas where vegetation is difficult to maintain at least 8 cm (3 in.) additional of well-graded nonasbestos-containing crushed rock may be used instead.)
OR
The asbestos-containing waste material is covered with at least 60 cm (2 ft) of non- ACM and maintain the cover to prevent exposure.
As with active asbestos waste landfills, unless a natural barrier exists, warning signs and a fence must be installed to deter public access. If warning signs are used, they must be displayed at all entrances and at intervals of 100 m (328 ft) or less and be easily read indicating the area is an asbestos waste disposal site.
Summary of State Requirements
States may not allow the option of a natural barrier to serve as protection of public and instead they might require fencing.
States may also require daily covering of the asbestos waste and not allow any other option.
Laws and Statutes
Clean Air Act