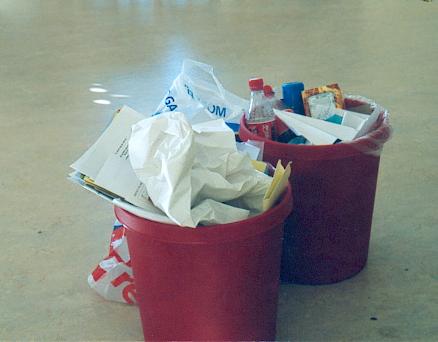 General Description
The disposal of paper, cardboard, toner cartridges, waste packaging, plastics, aluminum cans, and glass containers is usually the largest source of solid waste at a federal facility.
Summary of Federal Requirements
Solid wastes must be stored so as not to cause a fire, health, or safety hazard.
Solid waste containers (i.e., trash cans, dumpsters) must be of an adequate size and number to contain all waste generated between collections.
All vehicles used for the collection and transportation of solid wastes or materials separated for recycling must be enclosed or have suitable cover to prevent spillage.
Bulky wastes (i.e., household appliances, furniture, large auto parts, trees, branches, stumps, and other oversize wastes) must be collected a minimum of once every 3 months.
All solid wastes must be collected with sufficient frequency to inhibit the propagation or attraction of vectors and the creation of nuisances.


Summary of State Requirements
States may prohibit the disposal of items in the garbage/trash that are allowed in Federal regulations.
State-by-state guidance concerning solid waste can be found at ENVCAP's Solid Waste Resource Locator.
Laws and Statutes
The Resources Conservation and Recovery Act, Subtitle D