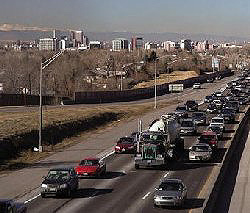 General Description
In metropolitan areas vehicles may have to undergo emissions testing and get a sticker proving they have done so.
Summary of Federal Requirements
Under CAA Section 118(c), each agency must comply with all applicable provisions of a valid inspection and maintenance program for all government vehicles. The only type of vehicle specifically exempted in the CAA are Military Tactical Vehicles. Various state programs may exempt other vehicle types from emissions testing. Additionally, under CAA Section 188(c) "each department, agency, and instrumentality of executive, legislative, and judicial branches of the Federal Government having jurisdiction over any property or facility shall require all employees which operate motor vehicles on the property or facility to furnish proof of compliance with the applicable requirements of any vehicle inspection and maintenance program established under the provisions of subpart 2 of part D [nonattainment areas for ozone] or subpart 3 of part D [nonattainment areas for carbon monoxide] for the State in which such property or facility is located (without regard to whether such vehicles are registered in the State)." In practical application this means:
Vehicles assigned to Federal facilities, their contractors, or eligible grantees, from the GSA Interagency Fleet Management System (IFMS) must meet the emissions testing requirements established for the program area in which the vehicle is garaged or primarily operated.
Federal agencies will agree in the lease or transfer agreement on which agency will be responsible for testing vehicles, payment of fees if applicable, and reporting.
The Facility Administrator is responsible for ensuring that vehicles obtained by an agency from a commercial source meet the emissions testing requirements established for the program area within the state.
Summary of State Requirements
This is a state, county, and municipality regulated issue. Contrary to past practices, vehicles owned and operated by the Federal government are not automatically exempt from having to under emissions testing and obtains proof of that testing. Some states, in their state regulations exempt classes of Federal motor vehicles, usually those for tactical use. The requirement for emissions testing of vehicles also applies to GSA motor vehicles which may be operated at your site and by your people.
State-by-state guidance concerning air emissions can be found at ENVCAP's Air Pollution State Resource Locator.
Laws and Statutes